Country Dance Events in the Northwest
What is a dance event and where can I find one to attend?
A dance event is usually an event that will hold workshops as well as evening dances. For purposes on this page, I will profile events usually in the Northwest.
February - Sweetheart Jamboree
February 15-17, 2013
Despite the name, this dance event is not just for couples. Singles will have fun at this laid-back event. The event starts on a Friday and continues on until Sunday. Workshops are held Friday, Saturday, and Sunday. There are dances Friday and Saturday night, with Saturday night having a dinner show. Three rooms to dance in: a country room, a swing room and a line dance room. On Sunday - they do a raffle for a quilt. This is done each year. In 2006, I was a proud winner of the quilt. Also, each year there is a different theme. Come and have fun with us!
This event will be held at the Bellvue Hilton, Bellevue, WA.
Char Alexander & Alan Provencher
(360)459-7077
Mitch & Cheryl Murray
(253)535-2562
Email: sweetheartjamboree@hotmail.com or check it out online at: http://www.sweetheartjamboree.com/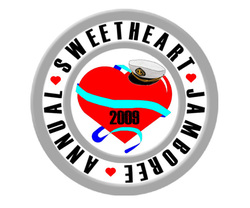 July - Portland Dance Festival
April
April 13, 2013
World renowned line dance instructors and choreographers:
Joanne Brady & John Robinson
Join Harvey & Diana Cameron at the Quincy Community Center 115 F St. SW, Quincy, Washington on Saturday, April 16, 2011 for a dance workshop. A Northwest favorite, Joanne once again bring us her lively personality and new to this event is Mr. Showcase himself, John Robinson. We are limiting this one to 90 persons to keep it personal and so everyone has a chance to view Joanne & John do there instructing.
Check out www.joannebrady.com and www.mrshowcase.net
Schedule (subject to slight and variable changes)
8:00-8:45 - Registration / open dancing
8:45-9:00 Warm ups
9:00-12 - Joanne Brady & John Robinson
12- 1:30 PM - Lunch (on your own)
1:30 - 5 PM - Joanne Brady & John Robinson
6 pm Dinner
7:30-11:30 PM Open & request dancing and 50/50 Drawing
(Friday Dance at Community Center 7:30-9:30)
Price before March 16 - $55 After March 16 - $60 At Door $65 per person
(includes Friday night dance and Saturday Night dinner & Dance)