All About Rodeos - Still Under Construction
Rodeos and Cowboys!
I love rodeos from bull riding to barrel racing. The cowboys try and earn points throughout the year just for a chance to make it into the top ten and attend the Finals Rodeo held in Las Vegas in December. Depending the event, the cowboy either has to beat a time and/or is judged on his/her performance as well as the performance of the animal.
The clowns have the hardest job in protecting the lives of the cowboys. My favorite clown has always been Flint Rasmussen.
Sisters Rodeo - Second Weekend in June
June 12, 13, & 14, 2009
Annual rodeo started in 1940 and is the longest-running Sisters area entertainment event and one of the most exciting. PRCA Sisters Rodeo will offer rodeo fans great performances by championship cowboys and cowgirls in all professional rodeo events. Four great shows and a weekend of special events of the "the Biggest Little Show in the World".
SPECIALTY ACT: TBA
RODEO CLOWN: TBA
BULLFIGHTERS: TBA
ANNOUNCERS: TBA

Sisters Rodeo Association
P.O. Box 1018,
Sisters, Oregon 97759
For more information,
call 541-549-0121
Fax: 541-549-0582
http://www.sistersrodeo.com/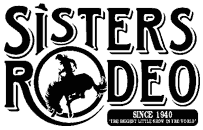 St. Paul Rodeo
July 1 - July 4
The world's best cowboys and cowgirls compete for top prize money in this exhilarating sport called rodeo. For 74 years, the St. Paul community has opened its heart and its doors to the world to join in a grand Independence Day celebration. Rodeo activities begin July 1 and continue through July 4, and in addition to rodeo performances, include a PBR bull-riding competition, a professional art show, barbecues, dancing, a parade, a fun-run, fireworks, and a carnival. There is truly something for everyone.
Ticket sales begin April 4.
Tickets available online at ticketmaster.com & at all Ticketmaster outlets, including GI Joe's and Fred Meyer stores. To charge tickets by phone, call 503-224-4400.
St. Paul Rodeo Ticket Office:
Hours: (closed Memorial Day)
June 1 - June 30, 9:00 am - 5:00 pm (All Week Days)
July 1 - July 5, 9:00 am - 9:00 pm
800-237-5920 or 503-633-2011
More information at: http://www.stpaulrodeo.com/

Salem Rodeo
2008 dates - TBA
Oregon State Fairgrounds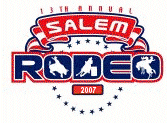 Molalla Buckaroo Rodeo
July 2 - 5, 2009

Molalla Buckaroo started back in the early 1900's. Molalla will have fireworks after the shows as well as a live band for dancing. During the day there is a carnival. Each year is a "Tough Enough to Wear Pink" night. One dollar from each ticket sold will benefit The Susan G. Komen Breast Cancer Foundation, Oregon and SW Washington Affiliate (www.komenoregon.org). We also invite all spectators to show their support by wearing pink so that they are eligible to enter a drawing for pink prizes as well.

All Cowboys and Cowgirls competing during this performance that place first in their event while wearing their pink attire will be awarded and additional $100.00 prize money and a matching $100.00 donation to the Oregon and SW Washington Affiliate of the Komen Foundation in their name.

SPECIALTY ACT: Tomas Garcilazo
RODEO CLOWN: J.J. Harrison
BULLFIGHTERS: Rowdy Barry; Danny Newman
ANNOUNCERS: Rob Smets, Kelly Kenney
Molalla Buckeroo Association
P.O. Box 601
Molalla, Oregon 97038
Phone: (503) 829-8388
FAX: (503) 829-4949

http://www.molallabuckeroo.com/